Magee Marsh
May 11, 2013

Saturday, May 11, was International Migratory Bird Day. So, just like last year, my dad and I went up to Ottawa county to bird
Magee Marsh
. When we arrived, there were many Great Egrets, as well as some Trumpeter Swans. After we parked and were getting ready to walk over to the boardwalk, Jen Brumfield posted about a Clay-colored Sparrow on the East Beach, which was about a 10 minute walk from the parking lot. Knowing this would be a lifer, we changed our plans and walked over to the East Beach. Here, there were hoards of White-crowned and White-throated Sparrows, plus large numbers of Yellow-rumped, Palm, Yellow, and Magnolia Warblers. The number of Barn and Tree Swallows was easily over a hundred, with Barn being a little fewer. After about a half hour of searching, my dad and I finally found the Clay-colored at the very back of the East Beach, thanks to the help of Gabe Leidy and Jen Brumfield. Other notables on the beach included many flyover Common Terns, Northern Mockingbird, and Baltimore Orioles.
After birding the East Beach, my dad and I headed over to the boardwalk. There were a lot of warblers and other migrants right at the beginning of the boardwalk, but of course, this was where all the people were too. Warblers my dad was able to get pictures of were Cape May, Magnolia, Nashville, Blackpoll, and others.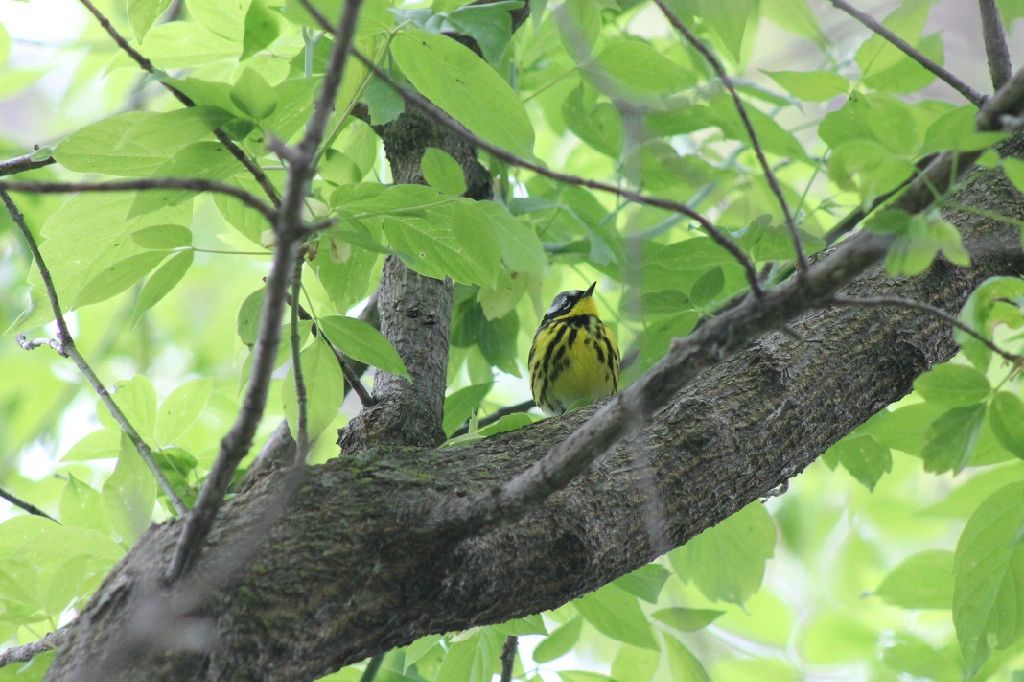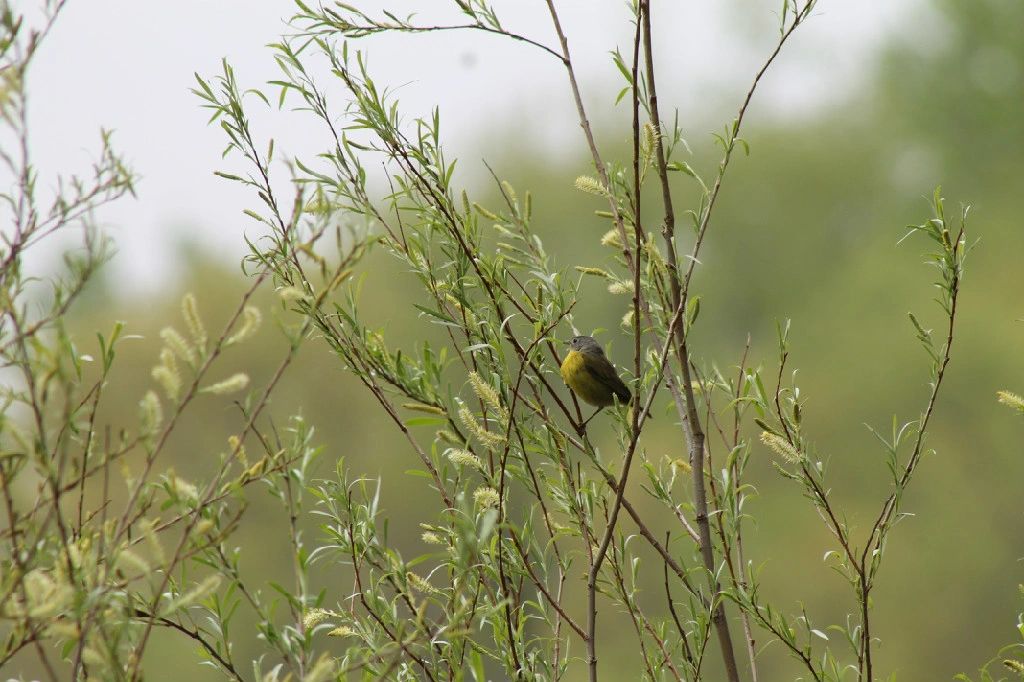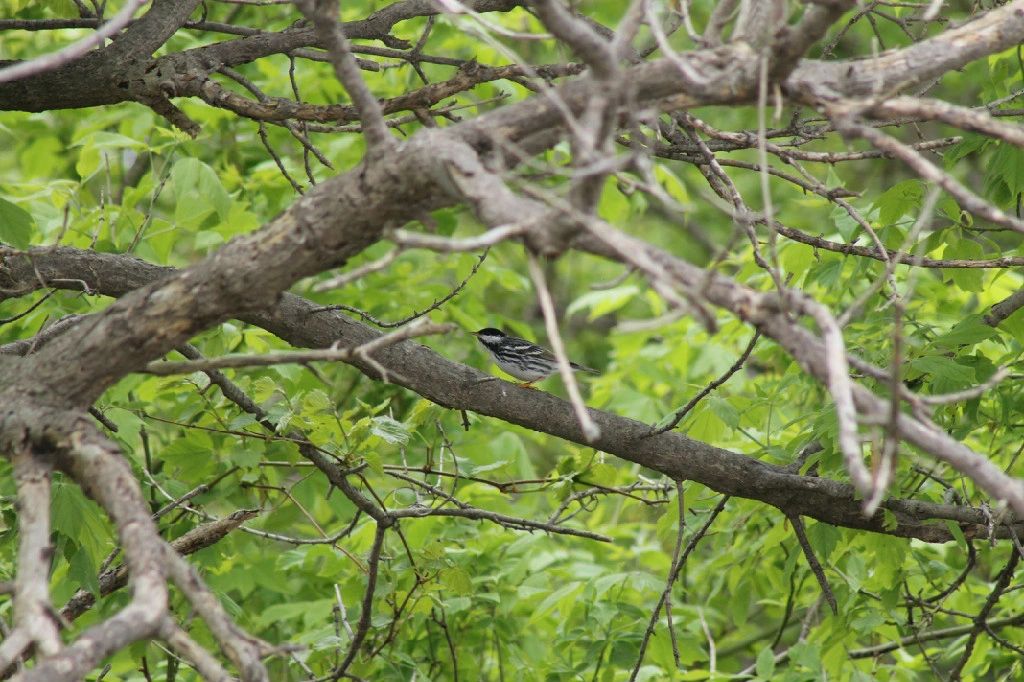 Here are some other pics highlighting the day:
Barn Swallow nest at nature center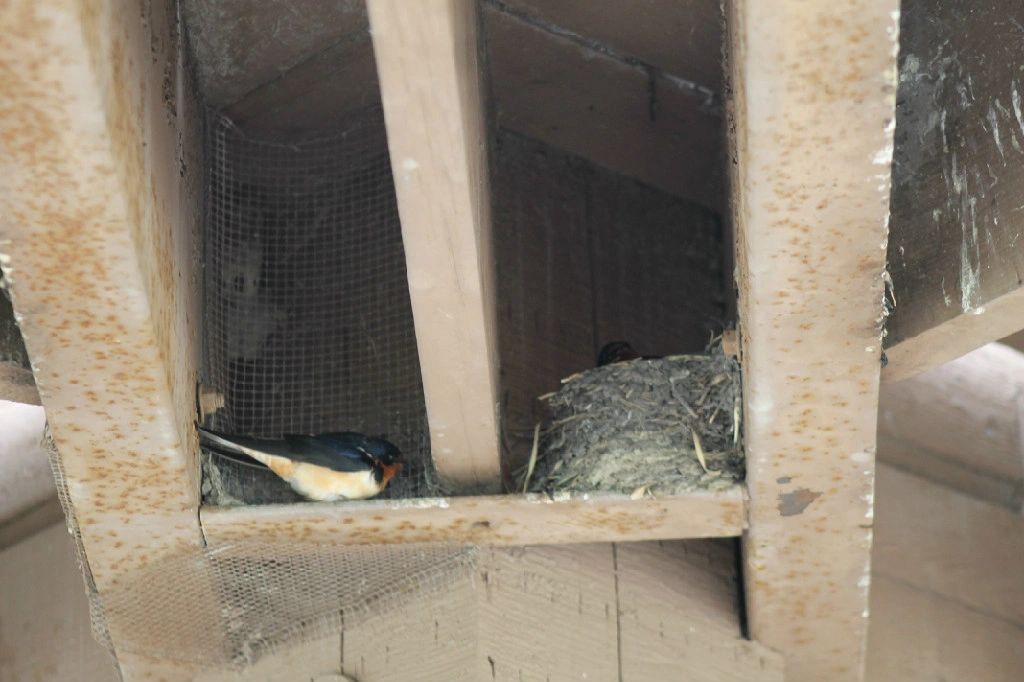 American Woodcock sitting on nest, blending in with surroundings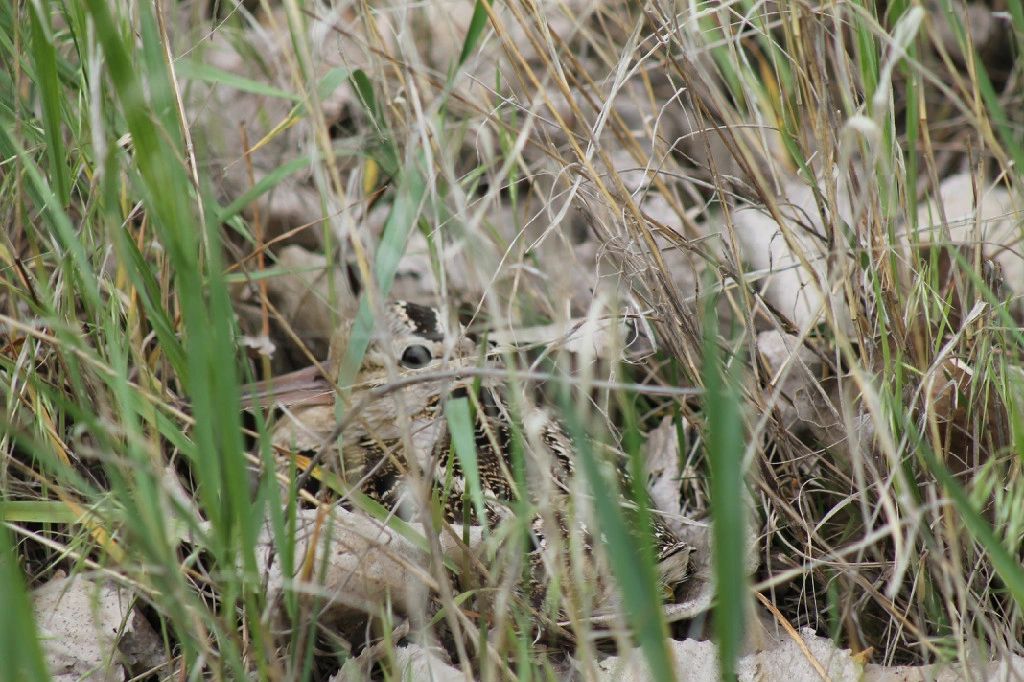 Baltimore Oriole eating orange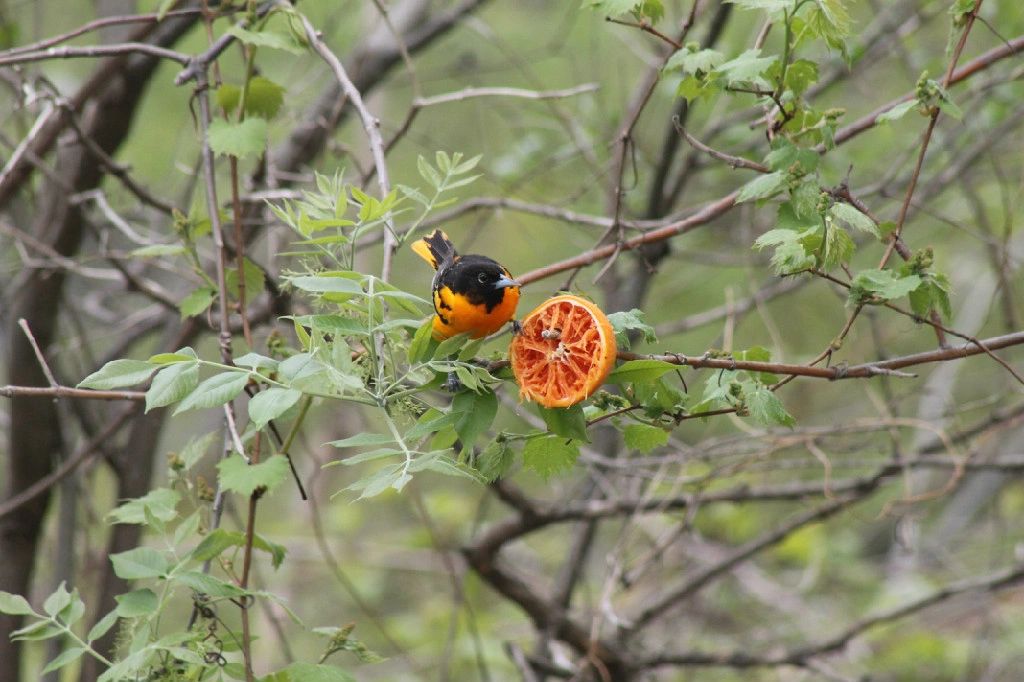 Scarlet Tanager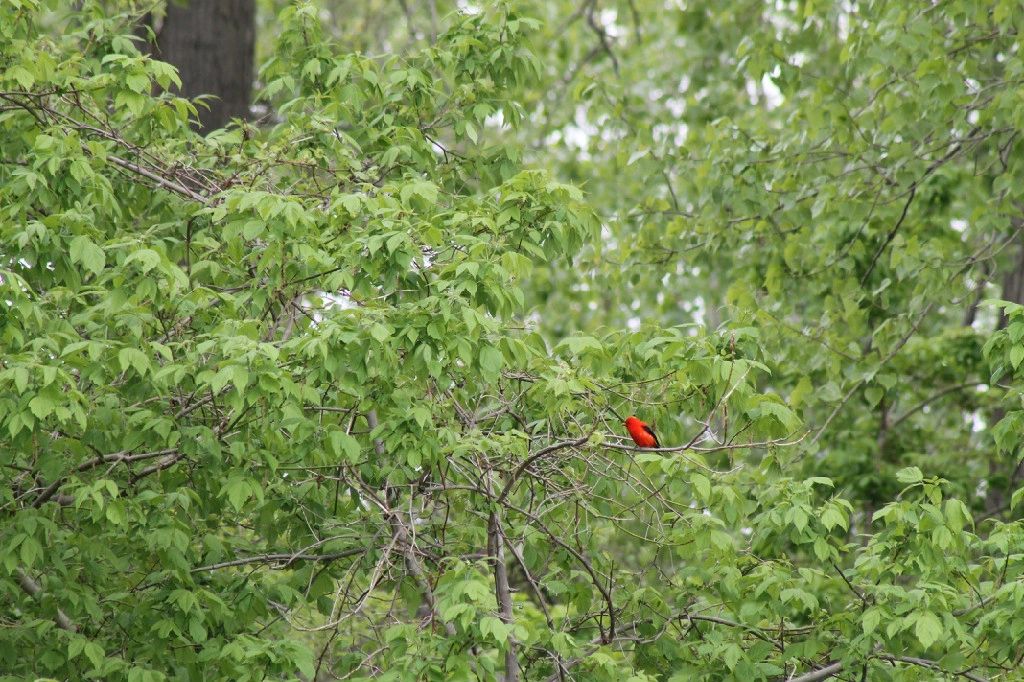 Warbling Vireo
Great Egret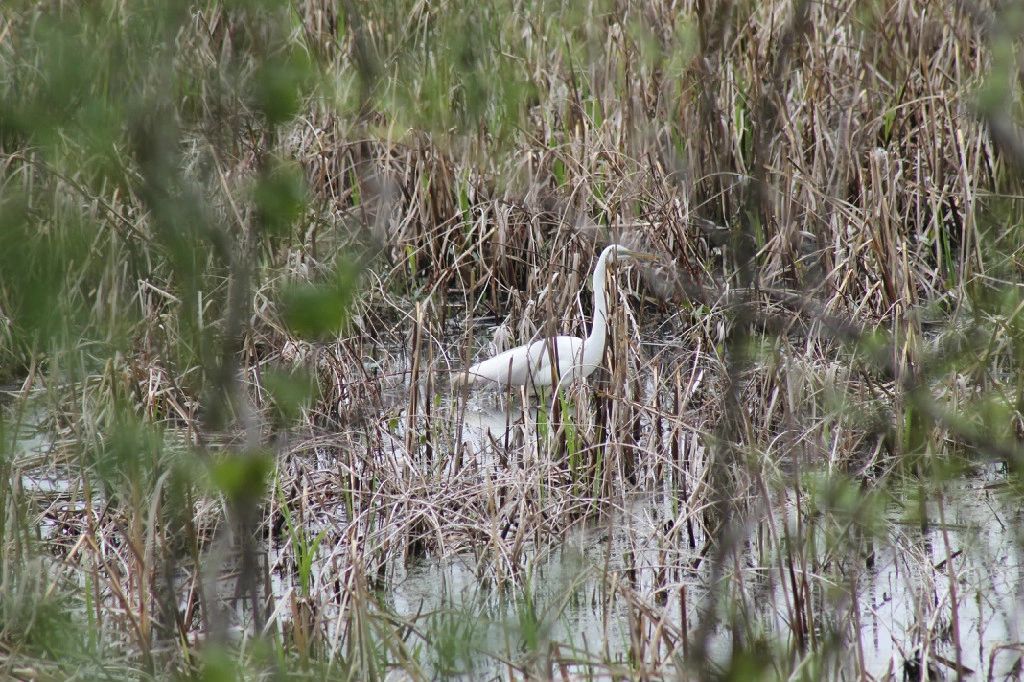 Tree Swallow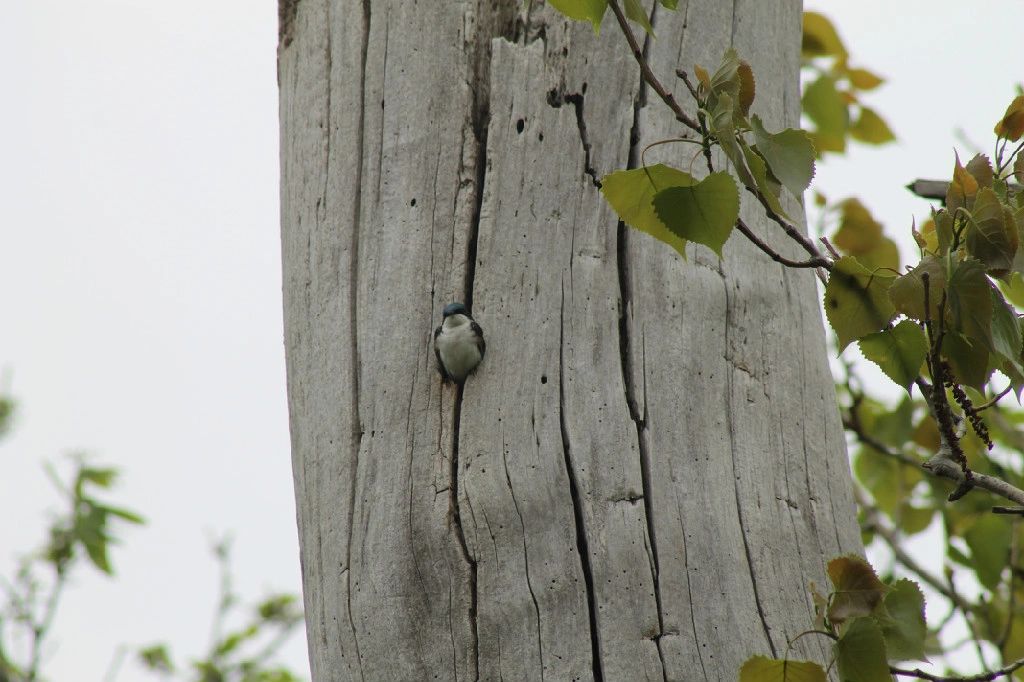 If you look closely, you will see the head of a juvenile Great Horned Owl peeking out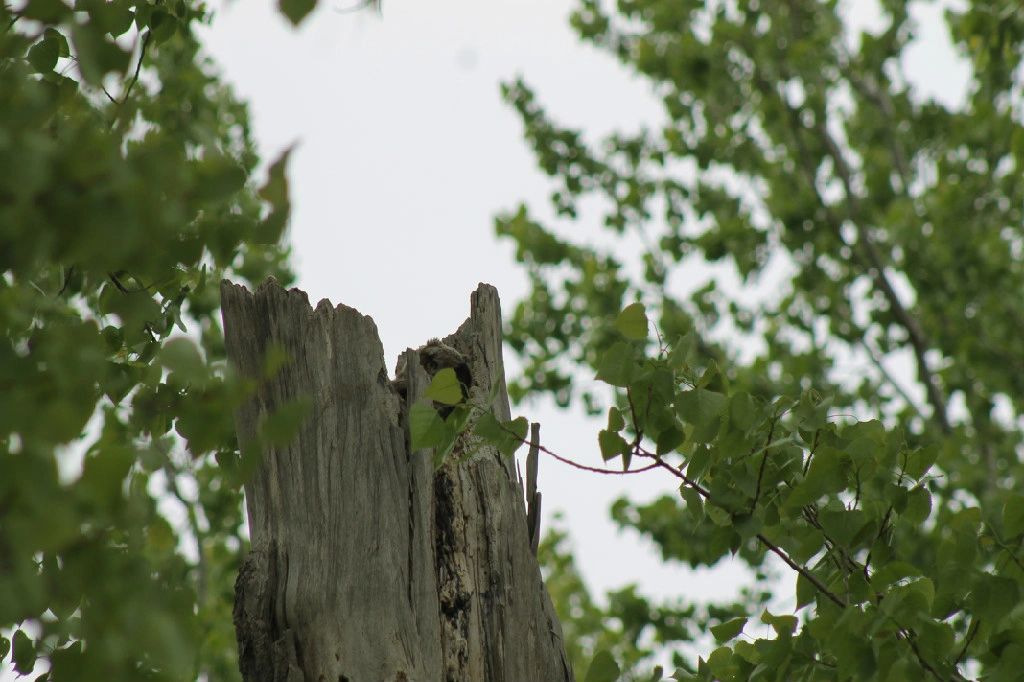 Mourning Dove nest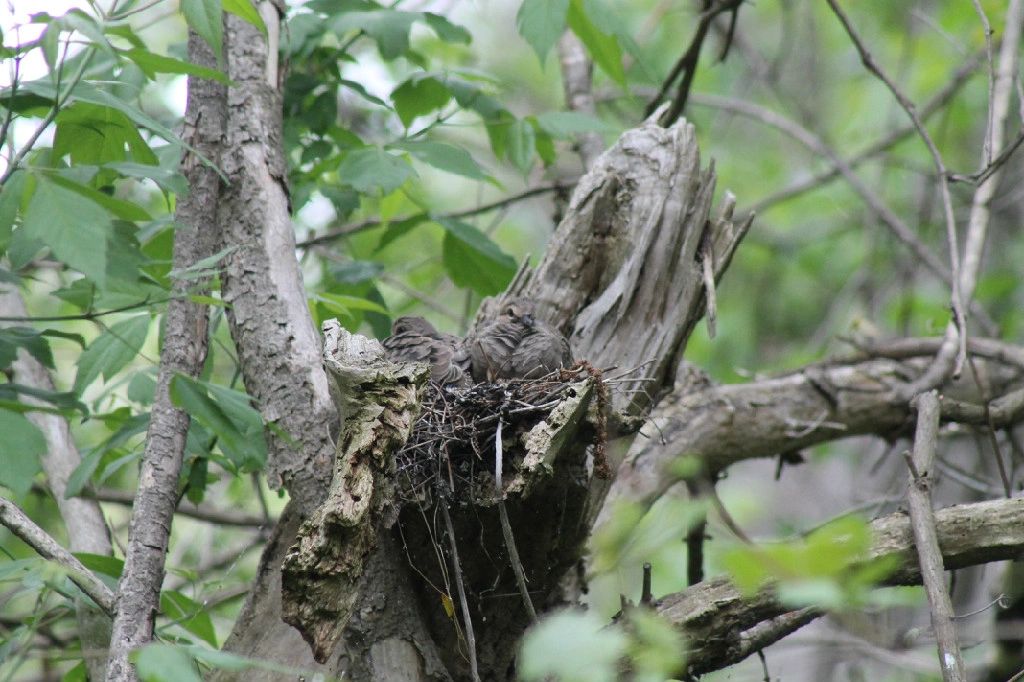 Holden Arboretum Migrants
May 4, 2013

I spent the morning of Saturday May 4, walking around Holden Arboretum. I arrived around 8:30 and walked over to Corning Lake. While walking to Corning, there were multiple
Tree Swallows flying over, a single Barn Swallow, Eastern Kingbirds, many
Yellow Warblers singing, plus Bobolink and Eastern Meadowlark in the fields. There was also a Warbling Vireo calling. Once I got to the lake, I quickly scanned it, and noticed there wasn't any waterfowl, besides the geese. However, there were many passerines in the area so I checked those out. There were a lot of blackbirds calling, Gray Catbirds, a single thrasher, and a male Orchard Oriole. Also of note around this area were two Purple Finches (male and female) including the female carrying nesting material. I believe they are nesting near the Arborvitae.

After walking around Corning, I found myself at Hourglass Pond, near the
Rhododendron Garden. There was a flock of warblers here, including Black-and-White, Blackburnian, Yellow, Palm, and Yellow-rumped. Other highlights here included a single Spotted Sandpiper and Purple Martin. Once I had spent a good amount of time here, I started towards the feeders. While walking towards the feeders, it turned out to be a good spot for birds. Highlights during the walk were Blue-headed Vireo, multiple Blue-gray Gnatcatchers, and a singing Wood Thrush. Also around this area, I added two warblers to my list: Chestnut-sided and Black-throated Green. I both heard and saw the warblers. Once I got to the feeders, there
wasn't anything there except many blackbirds, so I didn't stick around here long.

On my wait out, again by Corning Lake and the Rhododendron Garden, I flushed a single American Woodcock from the muddy fields. So a good day at Holden, boosting my year list by 10 to give me 147 and also giving me 23 new month birds, resulting in 65.

Lastly, later today around 3:30, I had a late Pine Siskin in my yard.

Good Birding.


EURASIAN WIGEON & PACIFIC LOON at Ladue Resevoir
April 5, 2013

The past couple days, there were two rare birds being seen at Ladue Resevoir in Geauga County: a Eurasian Wigeon and a Pacific Loon. So I headed out to
Ladue
on April 5, my last day of Spring Break. The Eurasian Wigeon is a sporadic visitor to North America, however, it has been recorded in nearly all states and provinces. With its dark reddish head and buffy crown, it really stands out when seen with American Wigeon. This Eurasian Wigeon was being seen on the Auburn Road part of Ladue Resevoir, and that is where I found it. I did not get any pictures, since it was very far out in the lake. However, it really stood out in my scope, and its red head was an easy identification feature in differing it from the American Wigeon. This was my 372 life bird.
The other good bird being seen at Ladue was a Pacific Loon that had just been spotted the night before. The adult loon was in non-breeding plumage, but it was still a good bird, and my 373 life bird. The Pacific Loon spends most of the year on the Pacific Ocean, returning to inland Arctic tundra lakes only for three months in the summer to breed. The Pacific Loon at Ladue was seen off of Valley Road, way far out with the other Common Loons. There were many more species of waterfowl on the lake, plus other highlights being Wild Turkey, Osprey, and my first Barn Swallow of the year. Good Birding.
RUFF in Shreve, OH
April 3, 2013

On April 1st, a molting male Ruff was spotted at Shreve Fish Pond, located in Wayne County. I know it seems like it would be an April Fool's joke, but it wasn't. I went down to see it on April 3 and it was definitely there, and a great bird at that. Although it wasn't in full breeding plumage yet, it still had a great color pattern. The bird was very close to the pond, so I and others, were able to get great looks. Here are some pics I got while in
Shreve
.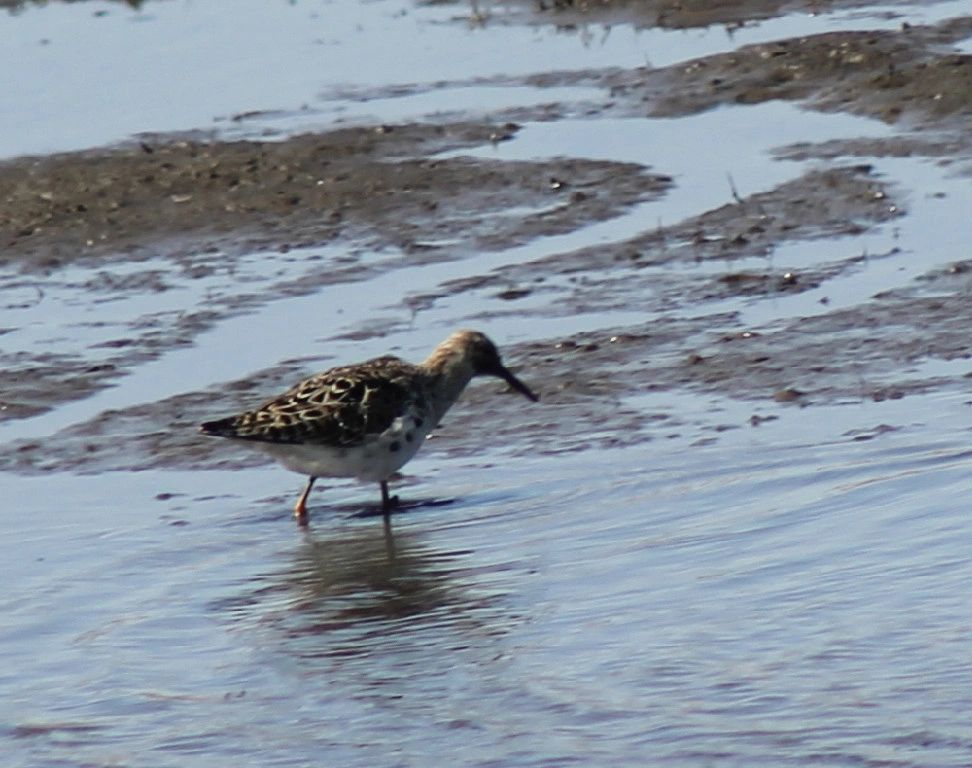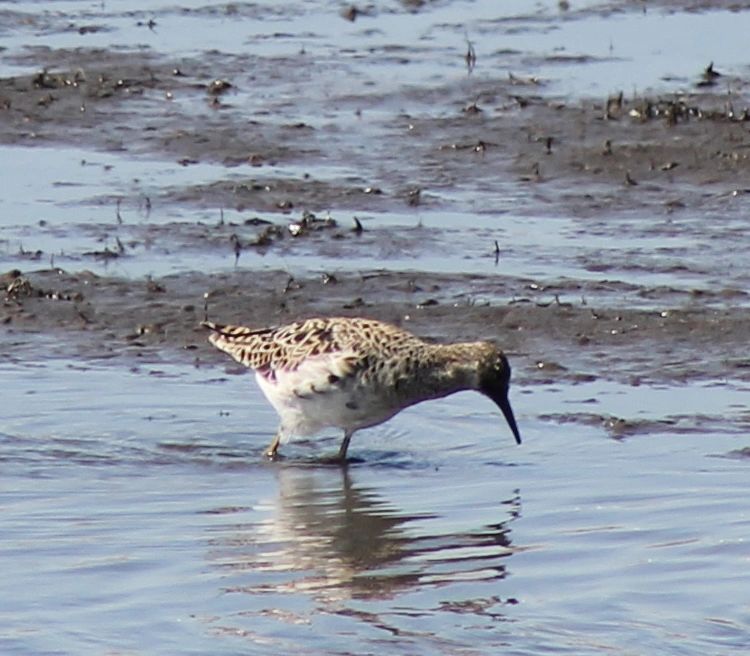 Here is the Ruff compared to a Lesser Yellowlegs.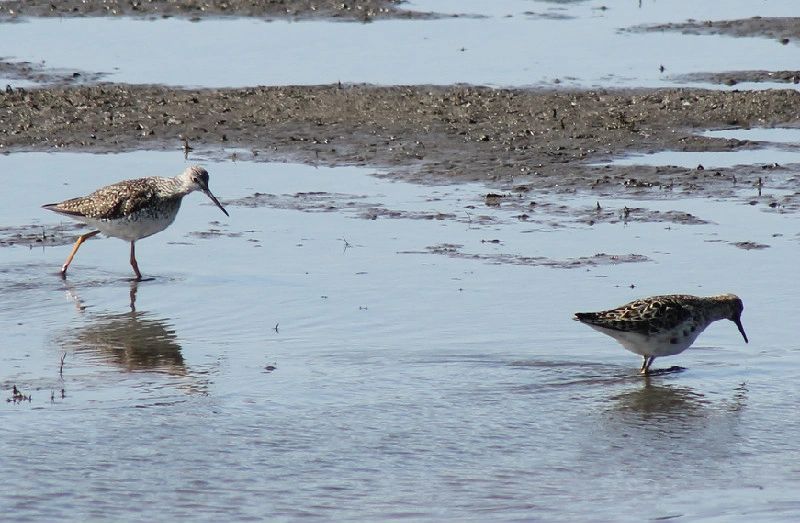 Other shorebirds I saw at Shreve Fish Pond were Pectoral Sandpipers, as well as both Yellowlegs.
After watching the Ruff for half an hour, I went across the street to
Killbuck Marsh-Wright Marsh
. During migration, thousand of waterfowl visit Killbuck Marsh, also located in Wayne County. While I was there after seeing the Ruff, I counted 15 species of waterfowl. There were large numbers of Redhead, Ring-necked Duck, Scaup, plus Gadwall, Wigeon, B-W Teal, Pintail, Bufflehead, Goldeneye, and American Coots. So a successful day in getting the Ruff, which was my first life bird since January 11.
Frohring Meadows, Chagrin Falls
March 29, 2013

Friday, March 29 was my first day of Spring Break, so I started my break by visiting Frohring Meadows, located in Geauga County. This park consists of open fields, some wetland in the middle of the park, and is surrounded by woods. When I first arrived, there were many Killdeer calling, a couple of Eastern Bluebirds, as well as many Red-winged Blackbirds and a single Eastern Meadowlark. I then went over and scanned the wetland. There were geese, Mallards, and a couple Wilson's Snipe calling, which eventually flushed up and were visible for a couple seconds. I then walked the trail and back into the woods. While walking in the woods, I flushed up a single American Woodcock, which flew further into the woods. While I was leaving, I spotted a flock of 35 Horned Larks calling and foraging in the fields. My full list of the morning can be seen
here
.
Bohemian Waxwing and Hoary Redpoll: Holden Arboretum
January 11, 2013
A great afternoon at Holden Arboretum in Kirtland today. I arrived around 12:15, about 20
minutes after I saw the post of the Bohemian Waxwing. When I arrived, I talked to Mike Watson
and he told
me
where he just saw it. I walked over to the back right side of the parking lot with
Jerry and immediately found the waxwing flock. We then found one Bohemian sitting alone, but
close to the other Cedars. The bird had rufous undertail coverts , white and yellow tips on the
wing feathers, a dark gray belly, and was larger than the Cedars. We watched it for a while, as
many other people got to see it. However, it eventually flew further back towards Corning Lake.
Haans and I walked back there and eventually refound the flock. After we watched it longer
again, helping other people get good looks at it, I walked back to Buckey Bud's Feeding
Station. When I got there, there was a large group of redpolls and siskins. I picked out one
Hoary Redpoll, after 10 minutes of watching the feeders. I left around 2:30, happy with two life
birds, giving
me
370. eBird list can be seen here.
I was also able to get some photos of the Bohemian.
Although these are cropped and the lighting is horrible, they still show the obvious field marks of the bird.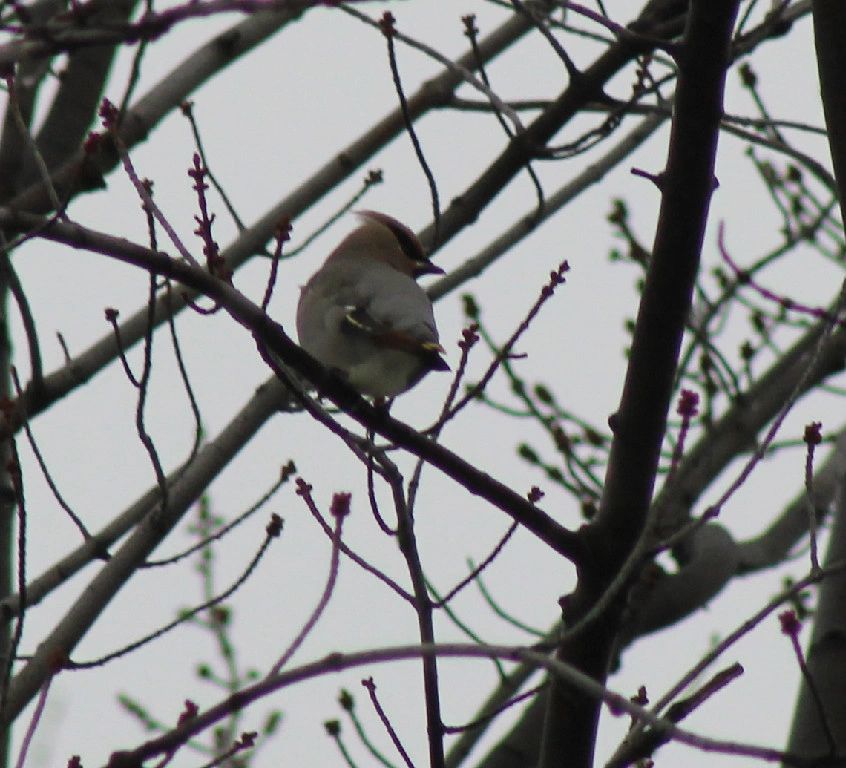 New Year's Day Birding
January 1, 2013
I kicked off 2013 by birding at a number of locations this morning, with my mom. Our first destination was to the
Great Lakes Science Center marina
, to try and get the Ross's Goose for my 2013 list. However, we had no luck finding it this time.
Our second stop of the morning was the
East 55th Street Marina
. Here we viewed a large number of waterfowl, including Gadwall, American Wigeon, Northern Pintail, Lesser Scaup, and a couple Bufflehead.
Third, we made a quick stop at the
Gordon marina
, next to East 72nd. Nothing here except a Horned Grebe, and a couple Great Black-backed Gulls.
We then made another five minute stop at
East 72nd Street
. This spot was also devoid of birds, besides the hundreds of Ring-billed and Herring Gulls, with a couple Great Black-backs, and 6 Double-crested Cormorants.
Our fifth stop of the trip was
Wildwood State Park
in Euclid. Here we picked up one new species for my list, a Bald Eagle that flew over. Other than that, it was pretty quiet.
Our final stop was visiting the
North Chagrin Reservation Nature Center
, in hopes up picking up a couple new ones at the feeders. We were successful, with 5 new birds for the year.

So a successful first day of the year, with 36 species to start the year off. Good Birding.

Ross's Goose
December 23, 2012

Back on December 19, an adult ROSS'S GOOSE was spotted in Cleveland, near the Great Lakes Science Center. Today, I made the drive into Cleveland to search for the goose. I arrived around
10:35
, got out of the car, walked onto the sidewalk, and there it was, foraging with the Canada Geese. I got many pictures and awesome looks at my 368th Life Bird! Here are some pictures I took of it while with the group of geese.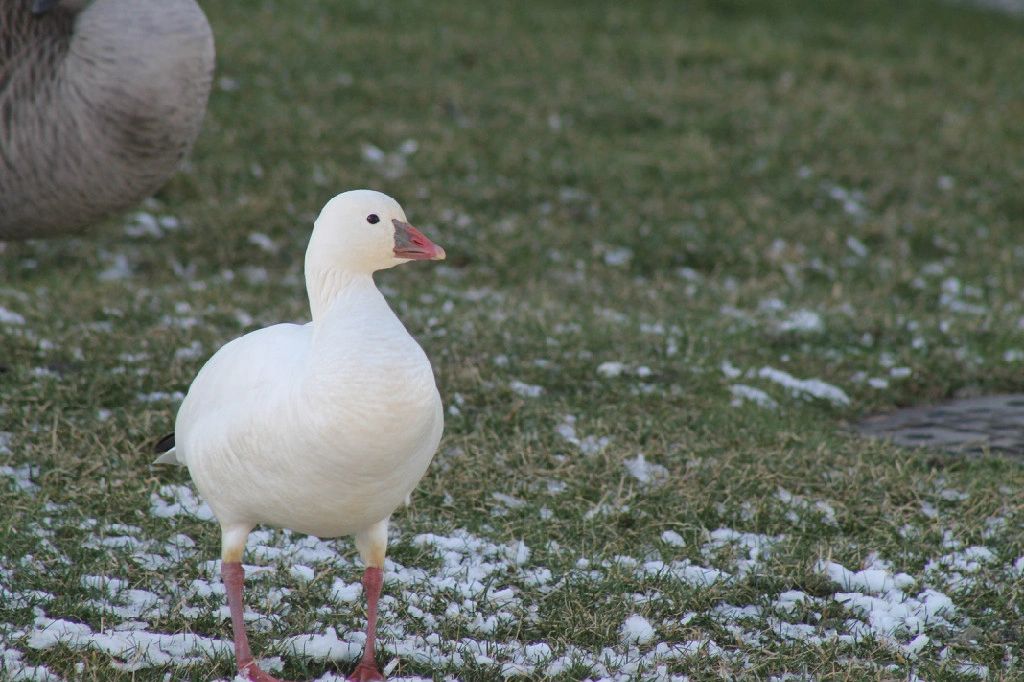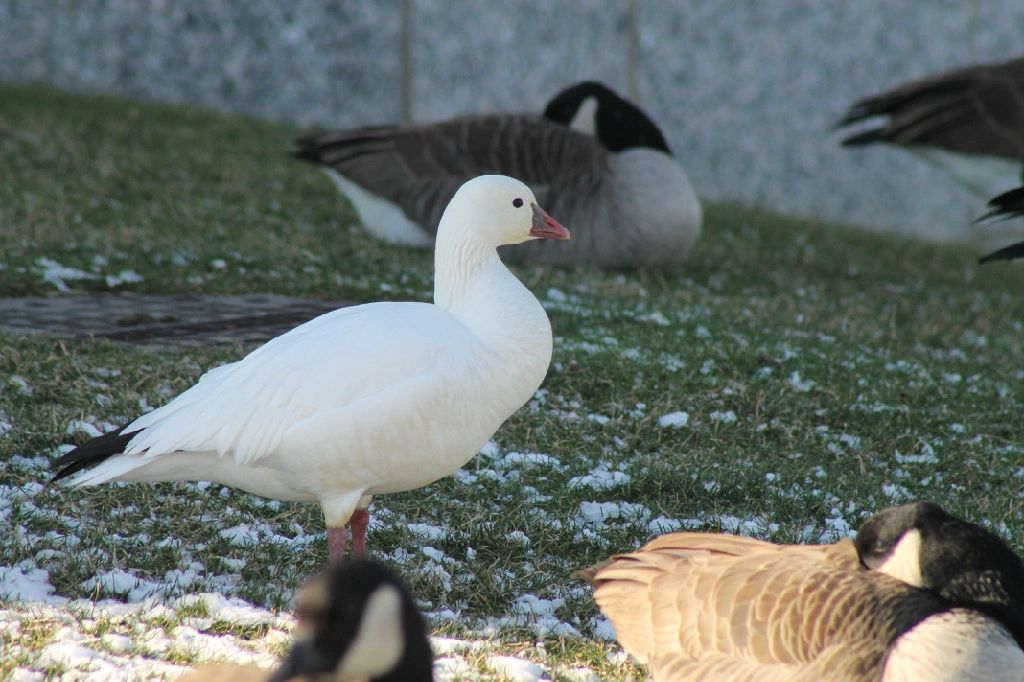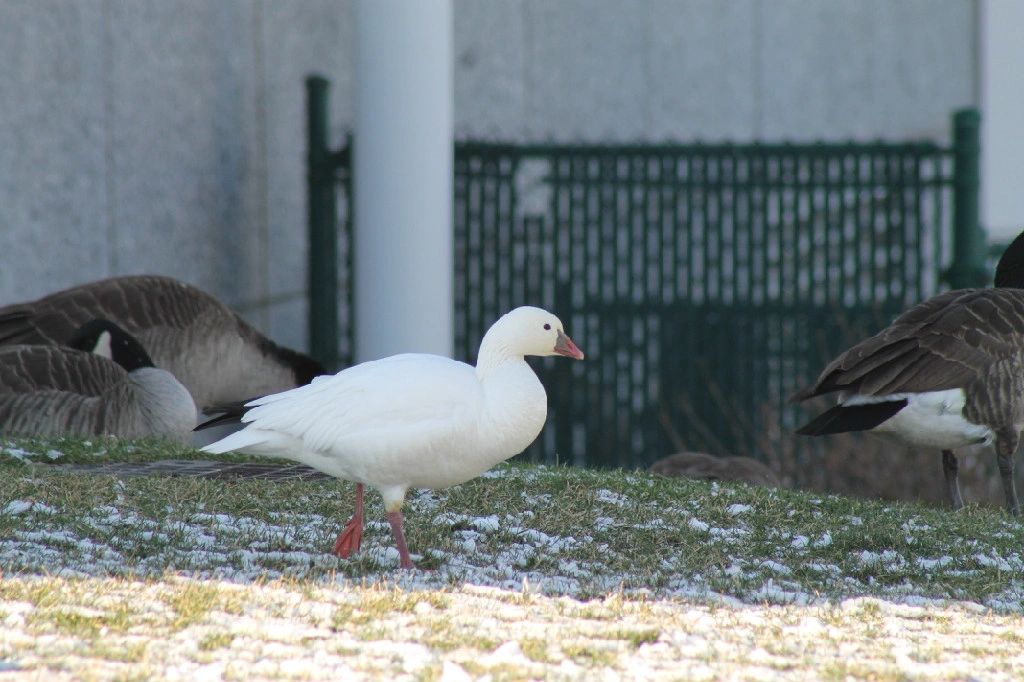 After about ten minutes of looking at it on the grass, it flew over into the marina. I got some more pictures of it on the water, plus a picture of it flying away, showing its wingspan.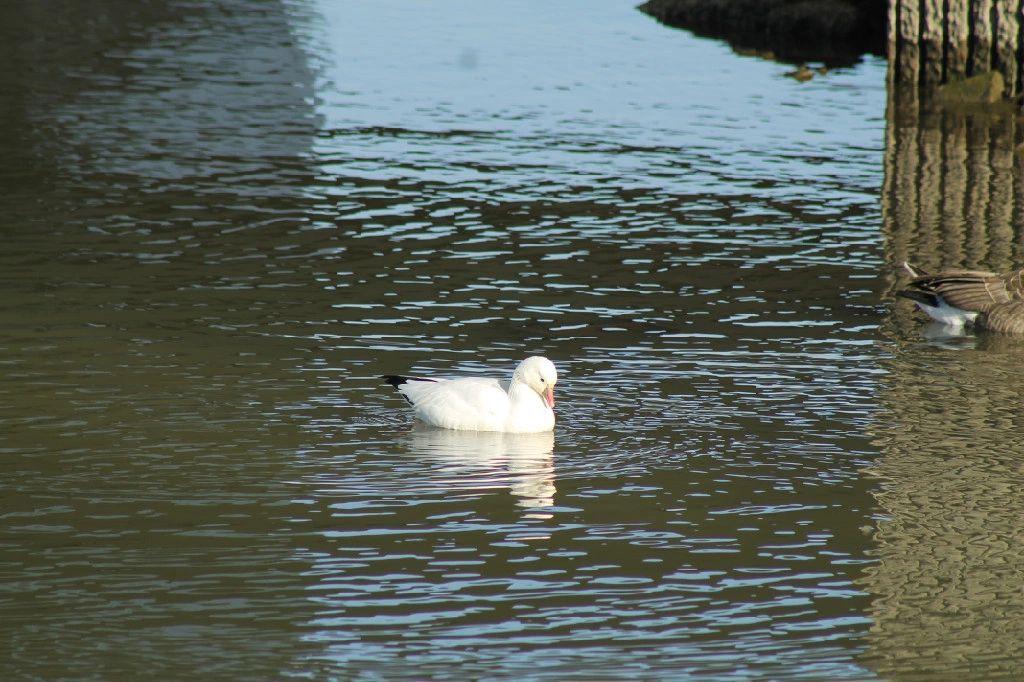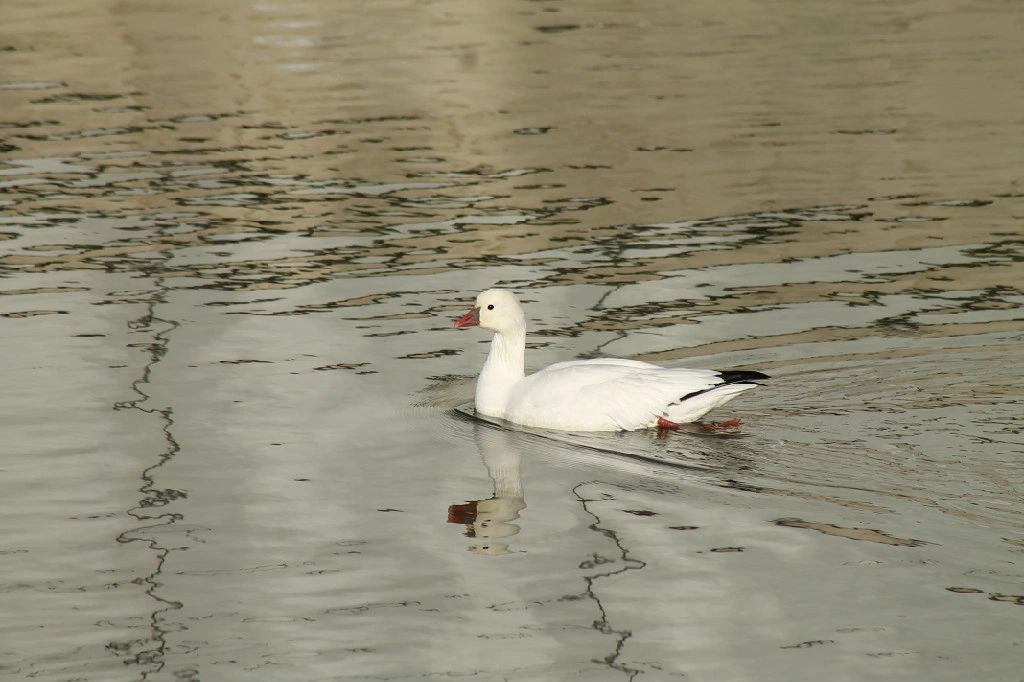 Also around the area of the Ross's Goose were some Mallards and American Coots.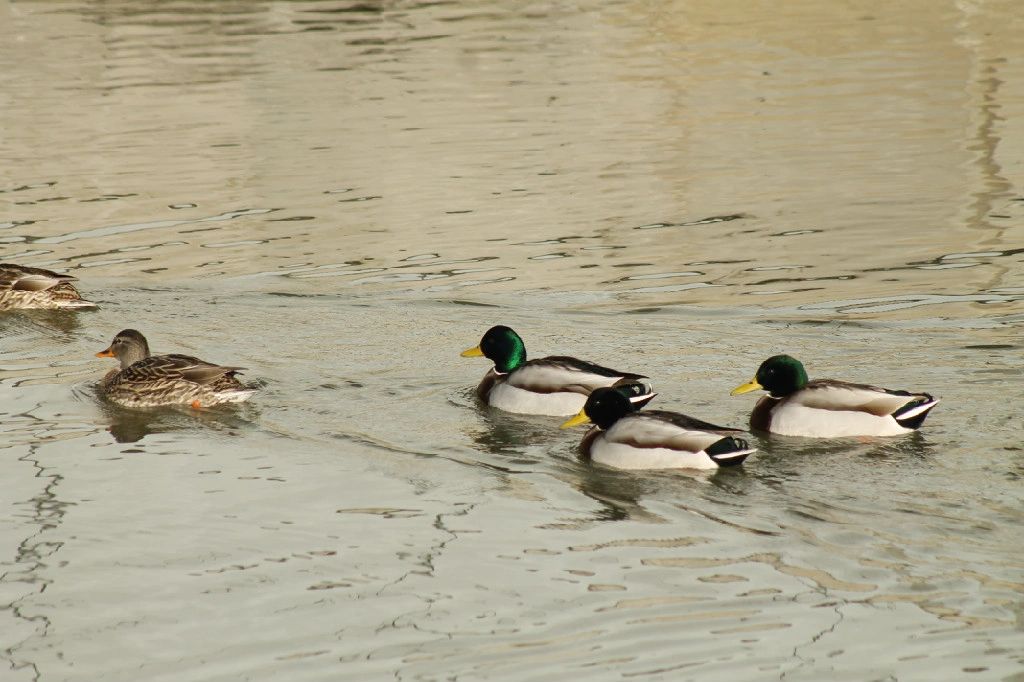 I then made a quick stop at
East 55th Street Marina
. Not much here, besides 50 American Coots and 1 Pied-billed Grebe. My final stop was at
Cleveland Lakefront State Park-Gordon Marina
. The only thing here was a lone female Red-breasted Merganser. A successful goose chase, resulting in my 368th Life Bird. Good Birding.
Cleveland Pelagic Trip Report & East 55th Street
November 24, 2012

This morning (Nov 24), my dad and I attended the Black Swamp Bird Observatory pelagic, with guides being Kenn Kaufman, John Pogacnik, Jerry Talkington, and Gabe Leidy. We boarded the boat in Cleveland and started heading down the Cuyahoga River. While riding down the river, there was the usual geese and Mallards, three flyover flocks of Tundra Swans, Bufflehead, some Hooded Mergansers, rafts of American Coots, Belted Kingfishers, and a single Northern Mockingbird. However, the highlight on the river was the usual 60+ Black-crowned Night-Herons that live and nest in the trees that hang over the river. These include adults and juveniles. When we got out onto the lake, we stayed close to shore and had small waterfowl numbers. Our only scoter of the day was a single Surf Scoter flyby. Other ducks we viewed included 2 Long-tailed Ducks, over a hundred Red-breasted Mergansers, a flock of 7 Ruddy Ducks, and many Double-crested Cormorants. This was a somewhat slow and disappointing pelagic, but a fun one at that. My eBird list for the trip can be seen
here
.
On the way home from the pelagic, my dad, some other birders from the pelagic, and I stopped at the East 55th Street marina in Cleveland. We stopped here because Jen Brumfield had seen a Purple Sandpiper about 25 minutes before we arrived, but we had no luck seeing it. However, in the marina were many numbers of waterfowl including Mute Swan, Gadwall, Northern Shoveler and Pintail, and Bufflehead. In addition to these, a single Peregrine Falcon flew over when we arrived.
My eBird list from here
can be seen by clicking on the link. Good Birding.
Birthday Birding
November 14, 2012
Today (November 14) was my birthday, so I went birding for most of the day. My first stop was Headlands Beach State Park in Mentor for about an hour and a half. When my mom and I got there, we met up with Roger Beuck, Ray Hannikman, and Jerry Talkington. It was kind of quiet here, but on the lake we had 40 Tundra Swans, a flock of Bufflehead, a flock of Red-breasted Mergansers, some Ruddy Ducks and Common Loons, a Fox Sparrow, and some Pine Siskins. eBird list
here
.
My next stop was to Fairport Harbor with Jim McConnor. The duck numbers were surprisingly low today. We had low numbers of both scaup, 2 White-winged Scoters, about 50 Bufflehead, 1 Hooded Merganser, and 1 Pied-billed Grebe. eBird list
here
.
Our third stop was to Ladue Resevoir in Geauga. Right when we got out of the car at the first pull-off, we had at least 200 TUNDRA SWANS! It was amazing to witness these incredible numbers of these magnificent birds. Other highlights included 1 Green-winged Teal, 100 Ring-necked Ducks, Bufflehead, Ruddy Ducks, both grebes, 4 Bald Eagles, American Coots, and more Pine Siskins. eBird list
here
.
Our final stop of the day was a drive down Hayes Road in Middlefield. My target bird was to get a Rough-legged Hawk, and we were successful in seeing one Rough-legged Hawk hovering over the fields. This was my 324 year bird. Other birds of prey included 1 Norther Harrier and 3 American Kestrels. eBird list
here
.
Lastly, on the drive home, we had 3 Sandhill Cranes in an open field off of Aquilla Road in Chardon.
All in all, it was a great day of birding and a great 15th birthday, with one year bird. Good Birding.
Tundra Swans, Kirtland
November 13, 2012

When I walked out of school today, I had over 90 TUNDRA SWANS fly over in three flocks. I first heard their goose-like honking, then I looked up and saw many swans flying over! This was in Kirtland, Lake county, around 3:20 pm. There were many, many
Tundra Swans
being reported today (11/13), with over 1,300 swans reported at Headlands Beach State Park. They made a very big push today throughout northeast ohio. This flock of swans was my 323 year bird! I hope to get another year bird tomorrow, as I try for Rough-legged Hawks in Middlefield, OH. Good Birding.
Headlands Beach State Park
November 10, 2012

This morning, (11/10), my dad dropped me off at Headlands Beach State Park in Mentor for a couple hours. I met up with Ray, Jerry, and Amol and birded with them. We were later joined by Haans. We first watched the lake for a little bit, but we didn't have much except for (6) Lesser Scaup and 4 species of gulls. While walking back to the parking lot, we had Carolina Wren, Yellow-rumped Warbler, American Tree Sparrow, Dark-eyed Junco, and flocks of 9 Snow Buntings. We stood by the dunes for a while and after about an hour of watching the sky, we had a flock of 20 WHITE-WINGED CROSSBILLS and 3 COMMON REDPOLLS. Both of these species have been very irruptive this year and have been reported all across the state. The Common Redpolls were my 322 year bird. I ended with 7 month birds in two hours and a total of 30 species. eBird list can be seen
here
. Good Birding and stay tuned for more reports.
Jen Brumfield Pelagic
November 5, 2012

Last Sunday (Nov 4), I attended one of Jen Brumfield's pelagic boat trips. The boat dock was located in Vermilion (Ohio) and while waiting for the boat, we had many birds flying over including Common Loons, 2 Bald Eagles, and 2 WHITE-WINGED CROSSBILLS. The two crossbills were spotted by Jen and they were my 366 life bird! We set sail around 8:30 and while heading out of the harbor, I spotted at least 4 Snow Buntings on the break wall. While out on the water, we had a low number of waterfowl. We had flyovers of both Scaup, rafts of Red-breasted Mergansers, more flyovers of Common Loons, and many Horned Grebes graced the open water. We also had flybys of Surf and Black Scoters. While chumming from the back of the boat for gulls, we had Bonaparte's, Ring-billed, Herring, Lesser Black-backed, and Great Black-backed Gulls, plus flybys of Common and Forster's Terns.
When we made our way into Lorain Harbor, we saw groups of American Coots in the harbor, many cormorants, a single Dunlin was seen on the rocks, and over 50 more Snow Buntings flew by. I was hoping for a Purple Sandpiper on the break wall, where they are most commonly seen, but we had no luck with it. However, further into the harbor, my 367 life bird awaited me: a White-winged Scoter! We ended up seeing a couple more W-W Scoters later into the pelagic. Another great bird we found 8 miles out was a female Long-tailed Duck. She flew by the boat a couple times and landed in the water while we passed her. All in all, a great first pelagic of the winter for me, with 2 life birds! The eBird list can be found
here
. Good Birding!
Fox Sparrow at PG
November 1, 2012

I took a quick bike ride through Penitentiary Glen after school today. I wasn't expecting much to be there, but a Fox Sparrow was a good bird I found. I first saw it fly out from the bushes on the Red Fox Loop horse trail, then I identified it when it flew into a bush and sat in the open, providing some nice looks at my 315 year bird! Other than that, not much else around except for a flyover Wood Duck, a Red-shouldered Hawk, and a Brown Creeper. The eBird list is
here
. Also, this Sunday, I will be on Jen Brumfield's pelagic out of Vermilion, visiting Lorain and Huron open waters. I will write a trip report for that here either on Sunday or Monday. Good Birding!
Headlands Beach State Park
October 28, 2012

This morning (10/28) my mother and I went up to Headlands Beach State Park in Mentor, We met up with Ray Hannikman and started walking up toward the lake to see what waterfowl was moving, since there were thousands and thousands of ducks moving yesterday reported by others in Lake and Cuyahoga Counties. When we got to the beach, there were 2 Snow Buntings foraging with 1 Sanderling. We watched the lake for at least an hour and saw the following waterfowl: Mallard, both teal, scoter spp., Bufflehead, Common Goldeneye, Red-breasted Merganser, Common Loon, and many cormorants. Also, a Peregrine Falcon flew by and 2 Bald Eagles were soaring overhead. When I was walking back to the parking lot, another birder (Chia) was up ahead and wanted me to look at a bird he had. After chasing it back and forth, through the trails, we confirmed it was a SUMMER TANAGER! I went up the trail to tell Ray, my mom, Danna, and Amol, and when Ray saw it, he said it was definitely a Summer Tanager. Both the Snow Buntings and Summer Tanager were year birds, so I had a successful outing.
eBird list here.
Good Birding!
Red-breasted Nuthatch
October 20, 2012

When I woke up this morning, I checked my feeders and saw a Red-breasted Nuthatch feeding at the peanut feeder. I was able to get a couple pictures as well. This was the first time I was able to photograph this species, and lucky for me, it stuck around for a couple minutes so I could get some good shots. Here are some pictures I took of the nuthatch this morning in my yard. Thanks for looking.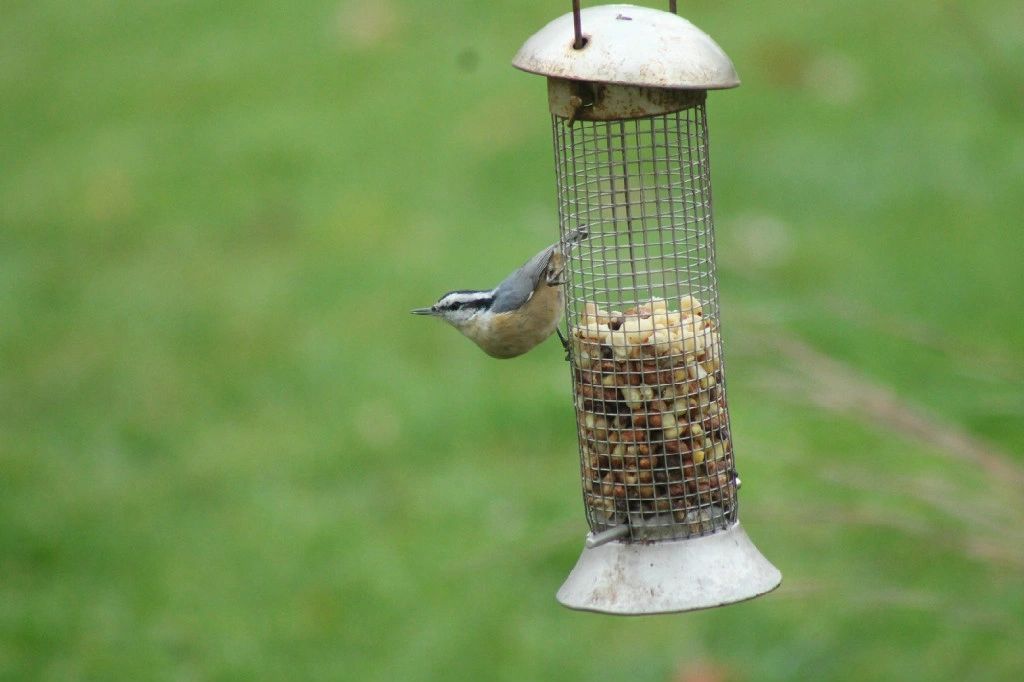 Penitentiary Glen
October 15, 2012

A bike ride this afternoon (10/15) through Penitentiary Glen yielded a flyover Peregrine Falcon on the
Kirtland Connector Trail, heading south, a single Orange-crowned Warbler on the Kirtland Connector
Trail as well, plus 3 Pine Siskins that have been visiting the nature center feeders since the 13th.
Other notables included Cooper's Hawk, Carolina Wren, 3 other warbler species, and 5 sparrow
species. Here is the
eBird list.
When I got back to my house, I had an additional 2 Pine Siskins at my feeders.
Columbia Reservation & RUFOUS HUMMINGBIRD
October 14, 2012

Sunday, October 14, my mom and I went on the Blackbrook Audubon Society monthly field trip to Columbia Reservation, in Lorain county. We started walking and had many Mallards and Wood Ducks flying over. When we got up to the first pond, we saw Canada Geese, Mallards, and Wood Ducks. While scanning the pond, a flock of Green-winged Teal flew in towards the back. Walking further down, we had a big group of White-crowned Sparrows, with over 15. We also had Chipping, White-throated, Song, and Swamp Sparrows throughout the preserve. Additional species seen were Great Blue Heron, Belted Kingfisher, Cooper's & Red-tailed Hawks, both Kinglets, Carolina Wren, and many Yellow-rumped Warblers. Complete eBird list
here
.
When we finished our walk, the group decided we should go chase a Rufous Hummingbird that was being seen, only 20 minutes away. When we got to the house, two women had already seen it before we arrived. After waiting for 30 minutes, a male RUFOUS HUMMINGBIRD finally showed up at the feeder. Here are two pictures I took of the hummer. Good Birding!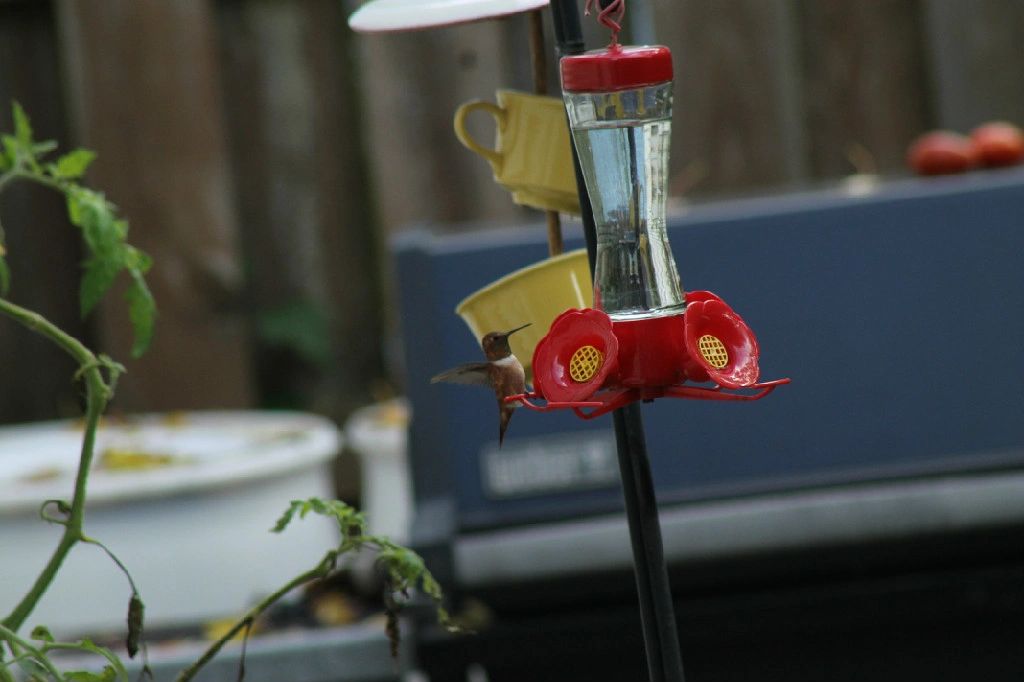 Cleveland Lakefront Nature Preserve
October 6, 2012
This morning, my mom and I joined the Kirtland Bird Club at the Cleveland Lakefront Nature Preserve (formally known as Dike 14). Our leader was Andy Jones who works at the Cleveland Natural History Museum and knows
so much
about birds and wildlife. Right when I got out of the car, I spotted a Brown Creeper in a tree and a Cooper's Hawk flew by. We started walking and right at the beginning of the trail, we had a flock of 5 Wood Ducks flyover, Golden-crowned Kinglet, Yellow-rumped Palm and Blackpoll Warblers, plus Song Chipping White-throated White-crowned Sparrows and juncos. Further into the preserve, we had a push of migrants including Ruby-crowned Kinglet, Northern Flickers, Red-breasted Nuthatch, more Brown Creepers, and new warbles Nashville, Magnolia, and Black-throated Blue Warblers. Many Chimney Swifts circled overhead, Turkey Vultures teetered high up in the sky, and big flocks of Red-winged Blackbirds flew over, including a single Brown-headed Cowbird.
As we kept walking down the trail more, a single Hermit Thrush was foraging on some berries, and a somewhat late Red-eyed Vireo perched in a tree. When we could view the East 55th ST harbor, we counted many Mallards and geese, Ring-billed & Herring Gulls, and a couple Pied-billed Grebes graced the water. Next to this was a great stretch of habitat, where American Pipits, Nelson's Sparrows, and Marsh & Sedge Wrens have been reported lately. We were lucky enough to find a single Sedge Wren hopping around in the shrubs. We also saw two more Cooper's Hawk and a single Red-tailed Hawk, to top off the trip list.. The complete list can be seen
here
. Thanks for reading and good birding.
Lake Erie Bluffs & Wake Robin
September 29, 2012

Today, I attended a Lake Metroparks birding program with our guide being John Pogacnik. We started the morning at the new park in Perry: Lake Erie Bluffs. This is a great park with lake views and a great trail with lots of vegetation. Although warbler (3 species) and sparrow (3 species) numbers were low, a MERLIN was a nice highlight. It was first seen flying over the lake and John made the ID while it flew in and over the trees. Other birds of note were Red-breasted Merganser, Bald Eagle (4-5), Cooper's Hawk, Yellow-bellied Sapsucker, and Red-breasted Nuthatch. eBird checklist can be seen
here
.
Our next stop was Wake Robin. When we arrived, we were told a Nelson's Sparrow was being seen, but hadn't been seen for the past hour. We spent about a half an hour looking for it before I found a single Nelson's to the right of the pond, on the left side of the boardwalk. It flushed up and flew, showing the short tail. Other birds of note included Sora, American Kestrel (flyover), Red-breasted Nuthatch, Marsh Wren, 3 warblers spp. and sparrows: Savannah, Song, Lincoln's & Swamp. eBird list here.
Overall, a great day of birding, with 2 new birds for the year, which is always fun to get a year bird. Good Birding.
Penitentiary Glen
September 23, 2012
After church today, I biked over to Penitentiary Glen from 12pm-2pm. There were a lot of birds on the Red Fox Loop with over 15 Eastern Bluebirds, 10+ Blue Jays, many warblers, sparrows, and more. I ended the day with 44 species. Here are the highlights.
Bald Eagle- 1 juvenile soaring over the nature center
Yellow-bellied and Least Flycatcher, with a couple Eastern Phoebes
Philadelphia and Red-eyed Vireos
Red-breasted Nuthatch-2
Brown Thrasher-3
Warblers:
Nashville-at least 7
Magnolia-2
Blackpoll-1
Pine-2
Yellow-rumped-1
Eastern Towhee-1 calling
White-throated Sparrow-group of 7
Rose-breasted Grosbeak-1 female
Here the eBird list:
http://ebird.org/ebird/view/checklist?subID=S11646902
Good Birding
Headlands Beach & Wake Robin
September 16, 2012
Today (9/16) my mom and I visited Headlands Beach State Park and the Wake Robin boardwalk, in Mentor Marsh. Our first stop was Headlands. There were a lot of Palm Warblers here and some other warblers mixed in. Warblers included American Redstart, Northern Parula, Magnolia Warbler, Palm Warbler, and Wilson's Warbler. Other birds of note included Red-headed Woodpecker, Warbling Vireo, Ruby-crowned Kinglet, Swainson's Thrush, Brown Trasher, and Baltimore Oriole. Here is the full checklist: http://ebird.org/ebird/view/checklist?subID=S11591973
Our next stop was the Wake Robin boardwalk in Mentor Marsh. Jerry Talkington had already birded here once this morning and he had seen 2 possible year birds for me: Sedge Wren & Lincoln's Sparrow. As we walked down the boardwalk, we flushed many Song Sparrows and a single Swamp Sparrow. Further down the boardwalk, a single Sora flushed from the marsh and a Pied-billed Grebe foraged in the pond. Walking farther down, another Sora flew up and I spotted a Lincoln's Sparrow (YB 305) mixed in with the Song Sparrows. After walking a bit more, a couple Marsh Wrens started to sing and a single Sedge Wren (306) was hopping around secretly in the cattails. Other birds of note included Great Blue Heron, Ruby-throated Hummingbird, Common Yellowthroat, and Palm Warbler. Full list follows: http://ebird.org/ebird/view/checklist?subID=S11592235
Good Birding.
Penitentiary Glen Walk
September 15, 2012

This morning, my dad, 9 others, and I attended the Penitentiary Glen walk, led by Pat Morse. We started off the morning with many Cedar Waxwings, a couple Red-breasted Nuthatches, Belted Kingfisher, House Finches & American Goldfinches, all around the nature center. The first trail we walked was the Glen Meadow Loop. There were many Eastern Bluebirds, Song Sparrows, House Wren, and a calling Killdeer. Towards the end of the trail, however, we had a good movement of birds. We found Philadelphia & Red-eyed Vireo and Magnolia, Blackpoll, Palm & Pine Warblers. While walking towards the Red Fox Loop, we observed a Blue-headed Vireo nest (inactive) that was used this summer. When we got to the R.F.L., an American Kestrel landed in a tree, 1 Solitary Sandpiper was feeding on the edge of the pond, a Black-and-white Warbler flew over, and a Common Yellowthroat was foraging in the field. There were also more Cedar Waxwings and many Field Sparrows. On the way back to the nature center, an Acadian Flycatcher was calling in the gorge and a Bay-breasted Warbler was in the trees. Lastly, my dad and I checked the small marsh behind the parking lot. We were rewarded here with Yellow-bellied Flycatcher, Philadelphia and Warbling Vireo, 2 Ovenbirds, another Magnolia Warbler and Common Yellowthroat, and a calling Eastern Towhee. Overall, a good walk, with 1 new month bird and 1 new 9th grade bird. Complete checklist follows: http://ebird.org/ebird/view/checklist?subID=S11585042 Good Birding.
PG is heating up!
September 4, 2012
After school today, I biked through PG from 4-5:30, in search of any new fall migrants. The first trail I rode on was the Red Fox Loop horse trail. After a couple minutes on here, I saw a lot of movement of small birds up ahead. After sorting through all the warblers, I counted 6 species. These were Common Yellowthroat (6), American Redstart (3), Magnolia Warbler (8), Chestnut-sided Warbler (1), Canada Warbler (1), and Wilson's Warbler (2)! I spent almost a half an hour watching the warblers, and I always find it neat to watch warblers as they scour the branches and leaves for insects. The Canada was a nice surprise and the Chestnut-sided was awesome! While watching the warblers, I heard Carolina and House Wren call, saw Philadelphia and Red-eyed Vireos, and got 5 woodpecker species.
After identifying all the warblers and others here, I moved out of the horse trail and viewed the pond. At the pond, I was rewarded with 2 Solitary Sandpipers. I flushed them while riding past the pond, then they landed close to the observation deck. Next, I continued down Red Fox Loop to check out the pond on the Kirtland Connector Trail. However, this had to wait. I saw a Northern Harrier zooming over the field! The NOHA was a new bird for my Penitentiary Glen list. While observing the harrier, a Barred Owl called at 4:38 pm!! I have never heard an owl call in the day before, and this was very exciting. After much excitement of the 45 minutes, I headed to the next pond. Here I found a Great Blue Heron flying over, a Green Heron searching for fish, and a Red-shouldered Hawk perched in a nearby tree. After picking up some new species for the list, I biked up toward the nature center. On my way to the Nature Center, I searched for the Barred Owl in the trees and called for it with my phone, but had no luck locating it. There was not much action from the pond to the visitor center. I made a quick look at the nature center feeders, however, they bring their feeders in for the night so there were not many birds here. Although, a female Ruby-throated Hummingbird was enjoying some juice from the hummingbird feeder (they do not bring in their hummingbird feeders).
Afterwards, I biked over to the small marsh, behind the group of picnic tables at the end of the parking lot. However, I was halted by two singing Ovenbirds! This was also a new bird for PG. While viewing the Ovenbirds, I saw more Red-eyed and Philadelphia Vireos, heard a Blue-headed Vireo, watched another Magnolia Warbler, observed some big flocks of Cedar Waxwings, and spotted a Yellow-bellied Flycatcher. This was turning out to be a great day. Other notables included Eastern Phoebe, Eastern Bluebird, and Field Sparrow. I named most of the birds I saw today, but here is the eBird list from an awesome hour and a half: http://ebird.org/ebird/view/checklist?subID=S11517644 Tomorrow I will try to get some pictures of warblers and others, if it is not raining.
Good Birding!
Headlands, Mentor Lagoons & PG
September 3, 2012

Today I started my birding at Headlands Beach State Park with my dad, Ray Hannikman & Peter ______. It was pretty quiet at Headlands today. However we did hear a Red-breasted Nuthatch, Carolina Wren, saw a small amount of Swainson's Thrush, Brown Thrasher, and had 3 warbler species. Ray also saw a Tennessee Warbler. Here is the eBird list for HBSP: http://ebird.org/ebird/view/checklist?subID=S11500258
Our next stop was Mentor Lagoons, where Ray, my dad and I, were joined by Larry Rosche. It was also very quiet here as well. Highlights were another Red-breasted Nuthatch calling, Yellow-bellied Flycatcher, another Carolina Wren, more Swainson's Thrush, another Brown Thrasher, and 3 warbler species. eBird checklist follows: http://ebird.org/ebird/view/checklist?subID=S11500236
After these two locations, I decided to bike over to Penitentiary Glen. Highlights here were Green Heron, Red-shouldered Hawk, Marsh Wren, 3 warbler species, Scarlet Tanager & Indigo Bunting. The Marsh Wren was seen in the small marsh behind the group of picnic tables, at the end of the parking lot. eBird list follows: http://ebird.org/ebird/view/checklist?subID=S11501319
Even though it was a slow day, it is always fun to go birding. Until next time, Good Birding.
Penitentiary Glen is hot
September 1, 2012
I went to Penitentiary Glen in Lake County this morning (9/1) from 8-10. There are a lot more birds migrating than last week. Highlights were 5 RED-BREASTED NUTHATCHES, Philadelphia Vireo, Northern Waterthrush, and more. Here is the full eBird checklist from this morning: http://ebird.org/ebird/view/checklist?subID=S11487370
When I got back from PG, I had a Blue-headed Vireo singing and at least 4 Dark-eyed Juncos in my yard. Good Birding.
3 Owls in 3 Nights, Kirtland
August 31, 2012

Here at my house in Kirtland, Lake County, I have had 3 different owl species in 3 nights. Here's the report:
8/29: Great Horned Owl. As I posted before on the 29th, I had a juvenile GHO calling, probably for its parents at 6am.
8/30: Barred Owl. Adult was heard calling around midnight.
8/31: Eastern Screech-Owl. I personally did not hear it, but my mom heard it around 1am this morning.
Even though I did not hear the screech-owl, it is still very cool to find out that I have 3 species of owls in my neighborhood. Good Birding!
Hello,
August 26, 2012
I went on Blackbrook Audubon Society's monthly bird walk this morning 8/26 at Mentor Lagoons, in Lake County. Blackbrook has these walks on the fourth Sunday of every month at Mentor Lagoons. Warblers have started to migrate! We had 5 species of warblers today on our walk. These were Black-and-white, Common Yellowthroat, Magnolia, Black-throated Green & Canada. However, I personally did not see the Canada. Another good bird sighted this morning was a Yellow-bellied Flycatcher! I did not realize it at the time I was watching it, but this was my 303 bird for the year! It was also a Lake County Bird. We ended the walk with 46 species, but I did not see three of them. A surprise from this morning was no sparrows! There are usually at least 2 species of sparrow here, but not this morning. Here is the full checklist on eBird: http://ebird.org/ebird/view/checklist?subID=S11442649 Good Birding and stay tuned for more recent sightings.
-Hi everybody,
August 21, 2012
I biked and birded through Penitentiary Glen this morning 8/21 from 8:30-10:00. Highlight was a single OLIVE-SIDED FLYCATCHER which was seen on Bobolink Loop trail. It was seen next to the pond with the boardwalk. Other highlights were Pileated Woodpecker, Swamp Sparrow, Dark-eyed Junco and a male Purple Finch. Here is the complete checklist. http://ebird.org/ebird/view/checklist?subID=S11414899
Good Birding!
-Hello, August 18, 2012

I visited Pipe Creek Wildlife Area in Sandusky on August 18 with the Ohio Young Birders Club and Kirtland Bird Club. When I walked up to the wetland, I immediately scoped out an AMERICAN AVOCET. This was an adult bird and it was still in breeding plumage, with some orange on the head. A couple minutes later, I found a RED-NECKED PHALAROPE swimming around in tight circles. This bird was already in its non-breeding plumage. After looking through the other shorebirds, I found a second RED-NECKED PHALAROPE swimming in circles. This bird was also in its non-breeding plumage. Other highlights here were 2 immature LITTLE BLUE HERONS and 2 SNOWY EGRETS (one immature and one adult). There was also Blue-winged and Green-winged Teal, along with a few Northern Shovelers mixed in the with ducks. A Northern Harrier zoomed over the mudflat and an immature Bald Eagle soared overhead. Other shorebird species included Killdeer, Greater and Lesser Yellowlegs, Short-billed Dowitcher, and Wilson's Snipe. Here is the full eBird checklist: http://ebird.org/ebird/view/checklist?subID=S11386082 Sorry I did not manage to get any pictures because I left my camera in the car, plus the birds were a little distant.
Thanks for reading and as always: Good Birding!



-HI ALL:
Here is my trip report I wrote for Black Swamp Bird Observatory for the pelagic on Lake Erie in November:
On November 13, 2010, Black Swamp Bird Observatory, Great Outdoors Radio, and Discovery Tours of Cleveland held and sponsored a pelagic boat trip. The trip took place in Cleveland on Lake Erie and on the Cuyahoga River. The leaders for this pelagic were John Pogacnik and Gabe Leidy. The weather was unusual for a November pelagic on Lake Erie, with the temperature at a balmy 60F. The weather was beautiful and everybody had many great looks at many awesome birds.
Highlights of the trip held many amazing birds. A fly-by BLACK SCOTER was a treat for many. While a very cooperative POMARINE JAEGER that provided very exciting and unbelievable looks. Red-breasted Mergansers were in large amounts. Only four gull species were seen, which were; Great Black-backed Gull, Ring-billed Gull, Herring Gull, and Bonaparte's Gull. Other birds spotted included seven species of raptors, which were, Bald Eagle, Northern Harrier, Sharp-shinned Hawk, Red-tailed Hawk, Rough-legged Hawk, American Kestrel, and Peregrine Falcon. A flock of about 35 Snow Buntings was nice also.
The weather was great along with the many awesome birds. A fantastic trip over all and thanks to everybody who made this trip possible.